12 Best Agorapulse Alternatives for Marketing Agencies in 2023
Ready to pivot your social strategy? Uncover the 12 leading Agorapulse alternatives tailored for marketing maestros. Elevate your agency's game with tools that redefine the social strategy landscape.
14-days free trial - No credit card required.
Why You Should Consider Alternatives to Agorapulse
Amidst the numerous social media management tools available, considering innovative alternatives tailored to your needs is a smart move.
Explore alternatives to Agorapulse for a more cost-effective solution

Look for tools supporting Instagram Stories, unlike Agorapulse

Seek alternatives with a unified inbox for streamlined social media management

Consider tools that integrate with specific platforms and services essential for your business.

Opt for alternatives offering AI-driven features to enhance content creation and curation
Let us help you find the best Agorapulse alternative for social media management, select a tool that offers more features, saves you money, and helps you grow your social channels
The SaaS Awards
2022 Winner
Software Advice
2021 Winner
Meet ContentStudio: the future of content marketing and social media management tailored for businesses and marketers.

With its comprehensive suite of tools and intuitive interface, ContentStudio takes content creation, curation, and distribution to a new level. This all-in-one platform enables users to research trending topics, curate engaging content from various sources, schedule and publish across multiple social media platforms, and analyze performance metrics from a single dashboard.

Whether you're a small business owner, a marketing professional, or a social media influencer, ContentStudio equips you with the tools and insights needed to streamline your content marketing efforts and drive superior results.

With ContentStudio's cutting-edge AI features, you'll work smarter, not harder. Save time, boost engagement, and unleash the full potential of your content with the power of AI at your fingertips.

With its advanced features, more comprehensive integrations, and flexible pricing, ContentStudio confidently presents itself as a robust Agorapulse alternative.

Key Features
Social Media Management: Schedule, publish, and manage posts across platforms like Facebook, Twitter, Instagram, LinkedIn, and more.

Team Collaboration: Streamline team cooperation with tools for task assignment, feedback, and collaboration.

Workflow Management: Manage multi-stage approvals efficiently with tools for task assignment, feedback, and real-time tracking.

Blog Content Management: Create and publish content to blog platforms like WordPress, Medium, Shopify, Tumblr, etc.

Unified Social Inbox: Manage all social media interactions in one place, offering superior customer service.

Analytics: Gain insights and track performance with metrics like engagement, reach, and conversions.

AI-Powered Content Generation: Save time and overcome writer's blocks with AI-generated captions and images.

Content Distribution & Promotion: Distribute and promote content across email, social media, and other channels using ContentStudio tools.

Content Curation: Curate relevant third-party content to share with your audience.

Integrations: Streamline workflows with integrations to platforms like WordPress, Medium, Webflow, Replug, Bit.ly, etc.

24/7 Customer Support: Experience superior customer service with our 24/7 live chat and email support, ensuring your success is our passion.

Budget-Friendly Option: ContentStudio offers superior value, allowing up to 25 social accounts for $99/month. In contrast, Agorapulse's priciest 'Enterprise' plan permits only 60 profiles, charging extra for more connections.
$99
/mo
20%
OFF with annual billing
| Features | | |
| --- | --- | --- |
| Supported Networks | 32 | 06 |
| Social Media Scheduling | | |
| AI caption generation | | |
| Content Calendar | | |
| Pinterest Integration | | |
| Content Categorization and Tagging | | |
| Team Collaboration | | |
| Social Media Management | | |
| Post Engagement and Interaction | | |
| URL Shortening and Tracking | | |
| Reporting | | |
| Hashtag suggestions | | |
| Social image creation | | |
| Instagram Direct Publishing | | |
| Integration with Canva, Zapier, and Feedly | | |
Here are the additional standout features not to be missed
Trending Content Discovery

Streamline recurring social media activities

Simplify organization and access to marketing content

Stay current with the latest content updates

Enhance social media presence by posting at optimal times

Broaden Twitter reaches with up to 25 threaded tweets

Content Timeline

Maintain distinct workspaces for individual clients

Find industry-relevant influencers swiftly
"I'm impressed with the team's dedication to rolling out well-designed features. ContentStudio's planner is user-friendly, and their 'Content Discovery' stands out. They support posting to multiple channels and their 'Automation Recipes' lets you auto-schedule content based on your rules. Plus, the 'approval feature' ensures only the right content gets published."
Rasmus Bernt Knudsen
External Senior Management Consultant (Time Limited Assignment)
Buffer
Dive into Buffer, a superior alternative to Agorapulse. Easily manage social media, schedule posts, and analyze performance with our intuitive interface.

Maximize robust scheduling and analytics tools for strategic content distribution and insightful data on your audience.

For individuals or businesses seeking a seamless digital experience, Buffer is your answer. Embrace a more innovative social media strategy with Buffer.
Post across social platforms effortlessly

Gauge your social media performance

Visualize and plan your content

Keep an eye on brand-related conversations

Manage content on the go

Schedule and post to Instagram directly
With Buffer, managing content and tracking user engagement is an effortless endeavor. Buffer's robust analytics feature offers more profound insights into post-performance, helping you tweak your content strategy for optimal results.

On the contrary, Agorapulse falters with Instagram direct messages, a shortcoming attributed to Instagram's API restrictions, not Agorapulse itself. Like Buffer, Agorapulse, too, doesn't support social publishing templates or A/B testing facilities.

Price: Buffer offers plans starting at just $5/month per social channel. If you're part of a team, consider our Teams plan, priced at $10/month for a single social channel.
Later
Later, a popular Instagram management tool simplifies posting visuals across various social platforms. Effortlessly share photos, videos, and stories and expand your brand's reach by searching for content and hashtags. Seamlessly manage six key platforms - Facebook, Instagram, Pinterest, LinkedIn, TikTok, and Twitter.

Later's standout feature, Linkin.bio, revolutionizes your Instagram profile, transforming it into a mini-website that mimics your profile's look while effectively tracking clicks and engagement.
Schedule social content effectively

Performance tracking

Clickable Instagram Links

Hashtag Suggestions

User-Generated Content

Optimal Posting Times

Product & Location Tags
Later has remarkable support for Instagram, and Pinterest is a significant advantage, while Agorapulse falls short with no Pinterest scheduling. For those whose content strategy leans heavily on visuals, Later is a promising choice.

Regarding affordability, Agorapulse struggles to justify its price tag for small and medium businesses compared to Later.

Later wins again, making it an attractive choice for budget-conscious businesses. Its integrated asset library provides an easy-access hub for all your media needs.

Price: Later's Starter Pack commences at $15, with Growth and Advanced packages at $25 and $40, respectively. You can add more social media accounts to the Advanced plan for $40; each new user will cost an additional $5.
Coschedule
CoSchedule combines a comprehensive suite of content creation, publishing, and social media management tools, offering a streamlined approach to your marketing endeavors.

Experience the unique Social Media Organizer tool, enabling you to weave your social media strategy alongside other marketing plans. With this centralized hub, manage schedules and easily publish across various platforms.
Audience Engagement

Unified Marketing Calendar

Tracking of conversations

Reusable social templates

Publish social media posts across various platforms

Create and collaborate effectively

Streamline your workflows with automation
While both CoSchedule and Agorapulse offer features like a publishing calendar, monitoring, scheduling, social media reporting, approvals, workflows, bulk posting, and automation, CoSchedule takes the lead with its email and content marketing management tools.

Capabilities such as an asset library, enterprise support, and unified reports, which are absent in Agorapulse, further elevate CoSchedule's position.

Price: CoSchedule provides a more straightforward and economical alternative to Agorapulse. Their 'Marketing Calendar' package is competitively priced at $39, encompassing 10 profiles and 10 users.
MeetEdgar
MeetEdgar equips you with diverse features, including post-scheduling, RSS feed integration, URL shortening, and more. The addition of a Chrome extension makes sharing links and adding content to your Edgar Library effortless while browsing.

Meet Edgar prides itself on its customer-centric approach, valuing feedback and continuously innovating to meet customer needs.
Auto-refill queue

Optimal Post Engagement

Direct Instagram Publishing

Auto-Generated Variations

Keep posts clean and track engagement

Video Uploading and Scheduling

Store and access your social updates
Meet Edgar is a perfect partner for freelancers, bloggers, and smaller agencies, providing substantial assistance across key social platforms like Twitter, Facebook, LinkedIn, and Instagram.

Conversely, Agorapulse might be better suited for larger agencies or established businesses.

Price: Starting at just $19, Meet Edgar is affordable. For $49/month, you can connect up to 25 social accounts and fill your library with limitless content. Moreover, Meet Edgar ensures customer satisfaction with a full 30-day money-back guarantee.
Post Planner
Post Planner stands as a remarkable Agorapulse alternative, offering potent social media management tools. Beyond scheduling and publishing capabilities, it concentrates on content curation and engagement.

It features a curated content library for easy discovery and sharing of pertinent content. Its distinctive "Viral Photos" feature suggests engaging visuals to boost audience interaction.
Discover top-performing content

Schedule posts beforehand

Get content performance predictions

Automatically reshare top posts

Star rating for each post

Optimize strategy with in-depth analytics
Recognized for its excellent value and user-friendly nature in the realm of social networking software, Post Planner stands out as a solid alternative to Agorapulse.

Post Planner is an excellent tool for brands, entrepreneurs, startups, and agencies, appreciated for its value and user-friendly features. Unlike Agorapulse, mainly for small to medium businesses.

Price: Post Planner offers a competitive edge with a free version and free trial, and starts the plan at $9 per month - significantly lower than Agorapulse.
Hootsuite
Hootsuite is an exceptional Agorapulse alternative, offering scheduling and publishing capabilities for various social media platforms.

Hootsuite's extensive integration options set it apart, enabling users to manage multiple accounts seamlessly. With advanced brand monitoring, analytics, and reporting tools, Hootsuite offers a comprehensive and robust multi-platform social media management solution.
Centralize your social messages and alerts

Set up queues for regular post scheduling

Schedule and publish across multiple social platforms

Monitor brand mentions, and hashtags seamlessly

Efficiently store and manage your media files

Keep an eye on competitors social performance

Content Library to store pre-approved post templates
Hootsuite caters to all user types; Agorapulse might not be the go-to for freelancers due to the lack of telephonic support, which Hootsuite provides.

Furthermore, Hootsuite's advanced offerings include ROI analytics and expansive third-party integrations - areas where Agorapulse can improve.

Featuring a streamlined tabular interface, Hootsuite presents all essential data on a single, user-friendly dashboard. Conversely, Agorapulse boasts a mobile-app-like layout with convenient notifications.

Price: Hootsuite's pricing starts at $49/month for the "Professional" plan following a 30-day free trial. They also offer a free "Team" plan.

The subscription cost increases to $129/month after the first month, with "Business" and "Enterprise" options available at $599/month, including prior demos.
Eclincher
Streamline your social media management with eClincher, a powerful alternative to Agorapulse.

Offering the ability to manage multiple accounts, schedule, and publish across platforms just like Agorapulse.

EClincher stands out with advanced content curation tools and a unified inbox. Plus, it's comprehensive analytics and extensive integrations provide a versatile solution suitable for businesses of all scales.
Unify your social messages in a single hub

Social listening and monitoring

Garner actionable insights from detailed social media analytics

Monitor audience sentiment

Maintain a comprehensive log of customer interactions

RSS Automation

Optimize your ROI on paid social media campaigns
eClincher sets itself apart from Agorapulse by offering some unique additional features, such as image editing, an asset library, and the ability to boost posts.

It stands out, particularly in providing a unified inbox that expertly handles messages, notifications, follower interactions, and comments. Notably, eClincher also outpaces Agorapulse in platform versatility, supporting seven social media profiles as opposed to Agorapulse's five.

Price: eClincher is offered in three tiers: Basic, Premier, and Agency, priced at $59, $119, and $219 per month, respectively. These plans support up to 40 profiles and 6 users.
Sendible
Opt for Sendible, a dynamic Agorapulse alternative that empowers marketers with scheduling, audience engagement, and performance analytics capabilities.

Promoting team collaboration, Sendible allows task distribution and progress monitoring. Its detailed analytics offer invaluable insights, while white-label solutions enable branding and selective client access.

Manage your accounts on the go with Sendible's mobile app, a comprehensive solution for individual marketers or teams.
Schedule and publish content effortlessly

Analyze campaign effectiveness,

Offer client-centric white-label solutions

Assign team tasks with ease

Queues and RSS automation

Manage messages and notifications

Calendar view of posts

Email support
Scheduling and editing across multiple platforms is smoother with Sendible, while Agorapulse needs to offer numerous channel customizations. Moreover, Sendible's integrations with various social media platforms outdo Agorapulse's limited options.

Sendible offers support for various blogging platforms, appealing to freelancers and bloggers, and boasts competitive pricing and a 14-day trial, outpacing Agorapulse, which doesn't support Pinterest.

Price: Sendible's affordable 'Creator' pack starts at $29, and the high-end 'Scale' pack is available at $199, allowing seven users.
A few frequently ask questions
What are the best Agorapulse alternatives?
If you're looking for alternatives to Agorapulse, consider the following top-notch options:
ContentStudio
Sendible
CoSchedule
Buffer
SocialPilot
Sprout Social
eClincher
Hootsuite
Later
Meet Edgar
Post Planner
Zoho Social
Is Agorapulse the best tool?
Is ContentStudio better than Agorapulse?
How long is the Agorapulse free trial?
Does Agorapulse work with Pinterest?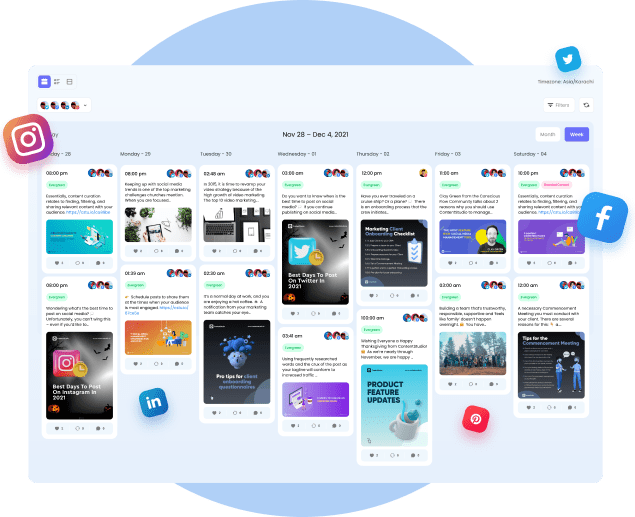 Powerful social media management software
Experience an organized workflow to plan, organize and schedule your social media posts. Discover, brand, and share the best content with your audience. Increase your productivity and boost social engagement.
The only platform you will ever need for your content marketing and social media management.
ContentStudio Inc, Delaware, USA
---