LinkedIn Video Downloader
Download, edit, or share any LinkedIn video without watermarks like a pro.
Discover Other Useful Free Tools by ContentStudio
How to use our free LinkedIn video downloader?
Download videos for offline viewing, research, sharing, and more. Try it now and simplify your LinkedIn video experience. Here's how:
Copy the video Link
Right-click on the video and copy its URL.
Paste the video Link
Visit our free LinkedIn video downloader page, paste the URL in the designated field, and click "Download."
Press download
Click the "Download" button to save your video to your device.
Completely free
That's right! You won't find any subscriptions here. Our LinkedIn Video downloader is 100% free. Download to your heart's content without spending a dime.
Lightning-fast downloads
That's why we offer blazing-fast download speeds. Say goodbye to long waits and hello to instant access to your favorite LinkedIn videos.
User-friendly interface
Our downloader is designed with simplicity in mind. No technical expertise is required! Just paste the video URL, and you're good to go. Download videos quickly and efficiently, saving you time and hassle.
Cross-platform compatibility
Whether on your desktop or mobile device, we've got you covered. Our downloader supports both web and mobile format videos. Download seamlessly on your preferred device.
Unlimited downloads
There's no limit to the number of LinkedIn videos you can download. Download as many as you need.
Frequently asked questions
Is the LinkedIn video downloader free to use?
Yes, our LinkedIn video downloader is completely free.
Can I download videos from any LinkedIn profile?
How many videos can I download?
Do I need to sign in to my LinkedIn account to download videos?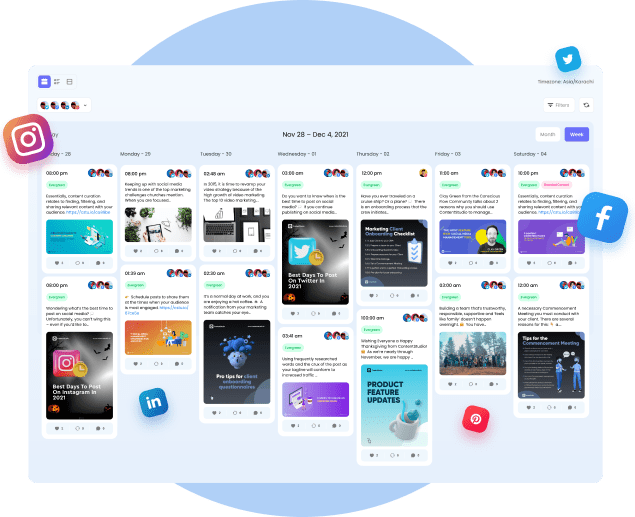 Powerful social media management software
Experience an organized workflow to plan, organize and schedule your social media posts. Discover, brand, and share the best content with your audience. Increase your productivity and boost social engagement.
The only platform you will ever need for your content marketing and social media management.
ContentStudio Inc, Delaware, USA
---