15 Best Hootsuite alternatives for marketing agencies in 2023
Let us help you find an appropriate Hootsuite alternative so you can easily manage and grow your social channels.
14-days free trial - No credit card required.
Why You Should Consider Alternatives to Hootsuite
With many other tools in the market, it is worth exploring new options that suit your needs.
Hootsuite plans are expensive and start at $99/month for only ten social profiles.

Minimal workflow approval process and available only on business & enterprise plans.

Does not have any calendar sharing to get feedback from clients.

Team collaboration and media library are available only for business & enterprise plans.

Hootsuite does not have any AI writer for social media captions.

Customer support is offered only on business & enterprise plans.

Additional users and social accounts are offered only on a business plan.

Limited reporting and analytics capabilities.
Let us help you find the best Hootsuite alternative for social media management, select a tool that offers more features, saves you money, and helps you grow your social channels
The SaaS Awards
2022 Winner
Software Advice
2021 Winner
ContentStudio is a great Hootsuite alternative for agencies, brands, and marketers who want to take their social media marketing to the next level. It offers a range of features tailored specifically for creating and implementing your social media strategy.

Not only does it allow you to publish, schedule, and analyze content across platforms, but it also helps you discover new ideas and plan your content with its easy-to-use editor – all in one place.

ContentStudio provides an integrated solution that simplifies social media management, so you can focus on what truly matters: connecting with your audience.
Here are the key features that ContentStudio does better than Hootsuite:
Competitive pricing: ContentStudio offers much more without breaking the bank when compared to Hootsuite. You can connect up to 25 social accounts for Just $99/month, whereas Hootsuite only allows up to 35 accounts and costs you $739. Additionally, add-ons allow the customization of individual limits, including social accounts, team members, storage, etc.

Social media management: The platform allows you to schedule, publish, and manage your social media posts across multiple channels, including Facebook, Twitter, Instagram, LinkedIn, and more.

Content distribution & promotion: ContentStudio provides tools for the distribution and promotion of your content across multiple channels, including email, social media, and other platforms.

AI-powered content generation: AI-generated captions and images can help you save time and overcome writer's block when creating social media posts.

Team collaboration: ContentStudio allows teams to collaborate on content creation and distribution by offering tools for task assignment, feedback, and overall cooperation.

Workflow management: Manage multi-stage approvals for efficient content creation and distribution. With tools for task assignment, feedback, and real-time progress tracking, users can manage the workflow from start to finish, ensuring that content is thoroughly reviewed and approved before publication.

Unified social inbox: With ContentStudio, you can manage your social media conversations in a single place and take better care of your customers and followers.

Analytics: ContentStudio provides insights and analytics to help you track the performance of your content, including metrics such as engagement, reach, and conversions. Stay ahead of the competition by comparing and measuring your social profiles with theirs.

Blog content management: ContentStudio empowers you to create and publish content to blog channels, namely WordPress, Medium, Shopify, Webflow, Tumblr, etc.

Content curation: ContentStudio provides a platform for creating and managing your content and curating relevant third-party content to share with your audience.

Integrations: ContentStudio integrates with popular platforms and tools, such as WordPress, Medium, Webflow, Replug, Bit.ly, and more, allowing you to streamline your workflow and get more out of your content.

24/7 customer support: At ContentStudio, we're always here for you - day or night, rain or shine. With 24/7 live chat and email support, our expert team is ready to help you succeed no matter your plan. Because for us, customer satisfaction is not just a priority, it's our passion.
$99
/mo
20%
OFF with annual billing
Only Business & Enterprise
| Features | | |
| --- | --- | --- |
| Supported Networks | 11 | 06 |
| Instagram Grid Planner | | |
| Shareable Calendar URL | | |
| AI Generated Content | | |
| Scheduling Views | Calendar, Feed, List, Grid, Kanban Board, and Table | Calendar and List |
| Content Discovery | | |
| Content Curation | | |
| Content Categories (Publishing Queues) | | |
| White-label reports | | Add-on cost |
| Approval Workflow | Advanced | Basic |
| Real-time team collaboration | Yes | |
| Repurpose content | Evergreen recipe to repurpose your highly engaging content. | |
| Publishing to blog channels | | |
Here are some other incredible features you won't want to miss:
Optimize social media presence with ContentStudio's 'Best Time to Post' feature.

Maximize your Twitter reach with the 'Threaded Tweet Feature' (Up to 25 tweets, 7000 extra characters).

Streamline your content creation with our 'AI-powered Generation'.

Organize and access marketing content easily with 'Media Library'.

Boost engagement, reach, and discoverability with an Auto-Comment Feature from ContentStudio.

Effortlessly monitor and manage Google Business Reviews with our real-time Social Inbox.
"ContentStudio has been an excellent tool for creating and scheduling content for our social media channels. It has saved us a lot of time with its easy-to-use interface and intuitive features."
Stacey Van C.
Social Media Manager (Frontier Flights)
Buffer
Buffer is a well-known social media management tool that allows individuals and brands to schedule their social media content across all major platforms. The primary focus of Buffer is to help users plan, create, and schedule social media content. Furthermore, it enhances social media users' publishing experience through features like a calendar, analytics, and an easy interface.
Social media management tool

Offers scheduling and automation of posts

Collaboration features for teams

Analytics and insights for performance metrics

Content library for saved and categorized successful content

Social listening for monitoring mentions, keywords, and hashtags

Mobile app for managing accounts on-the-go
Buffer and Hootsuite are both social media management tools. Buffer is simple, and affordable and focuses on social media scheduling and publishing with solid analytics.
Hootsuite is comprehensive with advanced analytics, collaboration features, wider network support, and a higher pricing point. Both tools offer unique features and pricing options to fit different business needs.
Price: Buffer's plans start at $0 and go up to $100 per month with a free plan and four pricing plans.
AgoraPulse
Agora Pulse is an excellent social media scheduling tool for businesses and influencers. It helps users publish or schedule social media content on Facebook, LinkedIn, Twitter, and Instagram. Agora Pulse has a robust social media reporting system to monitor the key performance indicator across multiple social media channels.

AgoraPulse is a worthy Hootsuite alternatives for those in need of an effective online presence.
Social media listening

Social media publishing

Team collaboration

Inbox management

Reporting and analytics

Facebook Ad management

Customizable dashboard
AgoraPulse and Hootsuite are both popular social media management tools used by marketers and businesses alike.
AgoraPulse provides a suite of powerful features for managing social media content such as automated campaigns and rich analytics, while Hootsuite allows its users to manage multiple social networks in one convenient place.
Price: They have a 14-day free trial and four pricing plans starting at $29 per month
Later
Later is a social media management dashboard that helps users plan, organize, publish, and schedule content across all major social media platforms. The platform allows users to share and schedule content on Instagram, Facebook, Pinterest, TikTok, and LinkedIn. It is a one-stop shop for social media management for businesses worldwide. It's trusted by 7 million active users, including multi-national companies and small business owners across the globe.

To sum it up, if you are looking for a Hootsuite alternative that facilitates easy post scheduling and content collection, then Later likely fits your needs.
Schedule posts, captions, and hashtags in advance

Calendar view of scheduled posts

Upload multiple photos and videos

Analytics

Auto-publish to Instagram

Manage multiple Instagram accounts from one Later account
Later and Hootsuite both offer powerful solutions for social media management, however, each brings something different to the table.
Later is great for scheduling posts ahead of time and organizing content into collections for quickly accessing again later, whereas Hootsuite is particularly well-suited for monitoring multiple networks at once and provides deeper analytics and reporting options.
Price: It offers a free plan and several paid plans, starting at $18 per month for the Lite plan and going up to $80 per month for the Advanced plan.
Planable
Planable is the perfect Hootsuite alternative for influencers, agencies, and enterprises. It lets you schedule social media content across all top-tier social media platforms. It is one social media scheduling tool that offers approval workflows and workspaces. Such features help agencies and social media experts manage social media for multiple clients.
Real-time Collaboration

Approval Workflow

Content Calendars

Automated Posting

Customizable Branding

Real-time analytics
Planable and Hootsuite are both formidable social media management tools. Planable offers smoother planning, collaboration, and team workflow functionality for businesses of any size to create social media content.
Hootsuite is a robust platform with comprehensive analytics capabilities, great mobile apps, and an extensive library of tools to help you take control of all your social media accounts in one place.
Price: Pricing is based on a subscription model, with monthly plans starting at $11. Pricing may vary based on the specific features and team size required for your organization.
Kontentino
Kontentino is one of the contenders in the social media scheduling tools market. It's best suited for large organizations and marketing agencies. The key areas of this social media management tool are planning, scheduling, and reporting. Besides all the basic social media scheduling facilities, it also offers approval workflows and collaboration features that help agencies manage social media for their clients.
Content Calendar

Teams Collaboration

Approval Workflow

Automated Posting

Analytics

Clients Approval

Advanced Campaigns and Reports
Kontentino and Hootsuite are popular digital marketing platforms used by many companies today.Kontentino is a great choice for those who want to collaborate and plan content with their teams, while its automation features help streamline your workflow.
Hootsuite's social media management platform is primarily focused on managing, monitoring, and reporting activities related to a company's social media channels.

Meanwhile, Kontentino is a Hootsuite alternative that offers features such as content collaboration, employee engagement, and performance tracking within teams that help to streamline your workflow.
Price: It offers a free trial and a variety of pricing plans, with pricing starting at 44€ per month. The pricing may vary based on the number of users and the specific features your organization needs.
MeetEdgar
MeetEdgar is an excellent social media automation tool for social media management. It assists brands and entrepreneurs in streamlining their social media content publishing. One of the benefits of using MeetEdgar is that it offers a pre-curated content library that provides an influx of social media content without relying on freshly designed content. Moreover, it doesn't delete social media posts published. Rather it allows users to re-schedule the existing postings for the future. Furthermore, it provides content tracking to help users better understand what content is performing.
Content Library

Schedule and Automation

Analytics and Reporting

Customizable Posting Schedule

Queue and Categories

Team Management

Support
MeetEdgar and Hootsuite are the most popular social media automation tools available today. Both have a slew of features that make it easier to manage any number of accounts across multiple platforms.
MeetEdgar provides you with more options when it comes to scheduling content, while Hootsuite offers more in terms of analytics reports.

If you're looking for Hootsuite alternatives out there in the market for managing your social media presence more efficiently, MeetEdgar is one to consider.
Price: It offers several pricing plans, including a $19/month Pro plan and a $799/month Company plan.
Oktopost
Oktopost is a social media management dashboard best suited for B2B businesses to plan, organize, publish, and analyze their marketing content. It is an all-in-one tool for designing and implementing a B2C social media marketing strategy. Furthermore, this tool ensures a seamless flow of social media content to establish a stronger relationship with the audience across all major social media channels.
Social Media Management

Advanced Analytics

Lead Generation and Nurturing

Employee Advocacy

Multi-Channel Marketing

Campaign Management

Advanced permission and roles

Social Listening
Oktopost and Hootsuite are effective social media management tools offering robust features. Oktopost is designed as a customer engagement platform, while Hootsuite enables businesses to efficiently track and manage multiple accounts.
Oktopost emphasizes employee advocacy, helping managers measure the impact of their employee's actions on the organization's bottom line with its enterprise-level analytics.
Price: It offers several pricing plans, including a Professional plan starting at $99/month and an Enterprise plan customized based on the client's specific needs. Prices may vary based on the number of users and features needed.
Post Planner
Post Planner is a social media scheduling tool for small and medium businesses. It helps brands and entrepreneurs automate their social media publishing across multiple social media platforms. Social media automation provides social media managers with a hands-off social media posting, which helps them allocate more time to engagement, replying to comments, and answering DMs.
Content Curation

Post scheduling

Optimal Timing

Multiple Social Media Integrations

Group and team management

Customizable Posting Schedule

Content Library

Marketing Automation
Post Planner and Hootsuite are both powerful tools for social media management. Post Planner offers various features such as content curating, scheduling, etc.
On the other hand, Hootsuite offers extensive analytics, team collaboration capabilities, and efficient campaign management. Ultimately, both offer different features to help individuals or teams reach their social media goals.
Price: It offers a Pro plan starting at $27/month and an Enterprise plan starting at $197/month with additional features and support. They also have a Free plan with limited features.
HeyOrca
HeyOrca is another excellent Hootsuite alternative for all-sized businesses and organizations. It helps them create, schedule, share, and automate social media marketing content. One of the challenges of social media content publishing is sticking to the schedule or posting regularly. It helps users with social media scheduling, approval workflows, and team collaborations to ramp up social media posting.
Social Media Scheduling

Social Media Collaboration

Social Media Approval

Analytics and Reporting

Facebook Post Promotions

Custom Branding
HeyOrca and Hootsuite are two popular social media management tools that efficiently plan, schedule, and analyze content performance.
HeyOrca is particularly advantageous for teams or agencies with its Team Calendar feature, which allows multiple people to collaborate on one post. Additionally, HeyOrca offers advanced scheduling capabilities with bulk timeline uploads and evergreen posts that can easily be copied into future timelines.
Price: It has a Starter plan that starts at $35/month, a Pro plan starting at $59/month, and an Agency plan that is customized based on the specific needs of the client.
Eclincher
Eclincher is a fantastic social media management dashboard built for small & medium businesses, agencies, and enterprises. It's equipped with all the necessary tools and features that help create, grow and scale social media reach. This social media management tool connects with all major social media networks. Plus, it seamlessly integrates with some marketing and content creation tools to strengthen your social media marketing efforts.
Social Media Management

Advanced Automation

Social Inbox

Analytics and Reporting

Influencer Marketing

Content Curation

Advanced Targeting
Eclincher and Hootsuite are two popular digital marketing tools that aim to help users optimize and manage their social networks.
However, Hootsuite's features and pricing structure can be limiting for some users. Fortunately, there are Hootsuite alternatives like Eclincher accessible which offer a comprehensive analytics and reporting suite, making tracking campaigns easier. Hootsuite's affordability and its variety of app integrations enable users to cross-promote content across multiple platforms.
Price: It offers various pricing plans starting from $65/month, with options for Starter, Pro and Agency plans. They also have a free plan with limited features.
Sendible
Sendible is a reputed social media marketing tool for solopreneurs, entrepreneurs, and businesses trusted by over 30,000 agencies, marketers, and brand managers. This tool is here to help you grow your brand by managing your social media profiles without going back and forth on different platforms. It provides a single dashboard to streamline a collaborative environment for publishing, managing, and analyzing your social media content publication.
Social Media Management

SMS and email marketing

Social listening

Smart Suggestions

Influencer Marketing

Social Inbox

Advanced Targeting

Content Curation
Sendible and Hootsuite are both incredibly popular social media management tools that enable businesses to efficiently schedule and manage their social presence.
Sendible offers more features focused on personalizing automated messages, analytics, customer engagement features and CRM functionality, while Hootsuite is better for campaigns, customer service and scheduling posts since it has an easy-to-use three-tab feature menu organization.
Price: It offers various pricing plans starting from $29/month, with options for Starter, Growth, and Enterprise plan. They also have a free plan with limited features.
Swat.io
Swat.io is quickly becoming a Hootsuite alternative that assists marketing teams with multichannel monitoring, content authoring, and customer care. It features collaboration, analytics, and campaign reporting modules and is primarily intended for agencies, media outlets, and broadcasting companies.
Collaborative Calendar

Smart workflows

Influencer Marketing

Social Listening

Content Library

Customizable Branding

Social Media Management
Swat.io and Hootsuite are both popular social media management tools, but there are important differences between them. Swat.io is focused on providing visibility into your social media performance to make informed decisions. It has a sophisticated analytics suite that can help you understand how successful your content is at reaching its targets while offering team collaboration tools to ensure everyone is sharing the same message across platforms.
On the other hand, Hootsuite provides a more basic platform with automated scheduling, auto-posting and reporting capabilities.
Price: It offers various pricing plans starting from €56,00/yearly, with options for Starter, Business, and Enterprise plans. Prices may vary based on the number of profiles, users, and features needed.
A few frequently ask questions
Can Hootsuite be considered the best tool for social media management?
When it comes to social media management tools, there are many options available in the market.

Hootsuite is undoubtedly a solid choice, there are other tools available that may suit your needs better. One such tool is ContentStudio, which offers superior customization and collaboration options.

With ContentStudio, you can tailor your content and scheduling to fit your needs, and the user interface is easy to navigate with its handy sorting features.
How does ContentStudio compare to Hootsuite in terms of social media management capabilities?
For small businesses, which social media management tool is the better alternative to Hootsuite - ContentStudio, AgoraPulse, or Buffer?
What are some less expensive alternatives to Hootsuite?
What are the best social media management tools for the year 2023?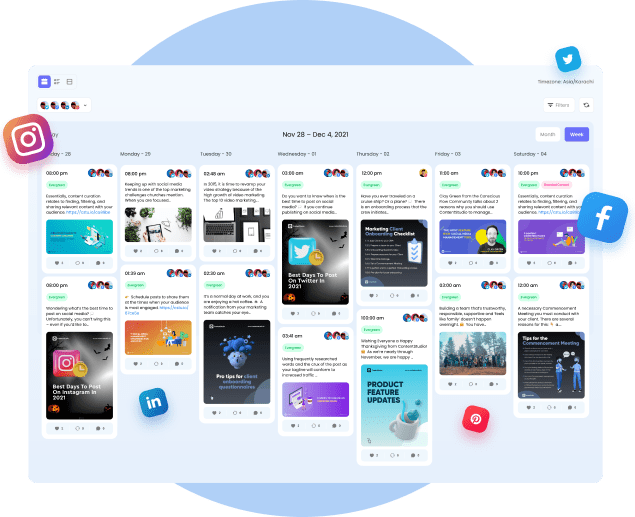 Powerful social media management software
Experience an organized workflow to plan, organize and schedule your social media posts. Discover, brand, and share the best content with your audience. Increase your productivity and boost social engagement.
The only platform you will ever need for your content marketing and social media management.
ContentStudio Inc, Delaware, USA
---